Decorations aren't always enough. Sometimes you need that special holiday smell to make your home Christmas ready! But, many popular air fresheners contain chemicals and harmful ingredients that aren't safe to have in your house. Here are 5 great and easy ways to make your house smell naturally amazing for the holidays.
Homemade Candles
Mason Jar Oil Candle: Mason jars are all the rage these days! These DIY candles not only look pretty but will bring your favorite holiday smells to your home as well! They are easier to make than you'd think. What you put in the jar is your choice, but we think these pinecones, cranberries, cinnamon sticks, pine sprigs and berry sprigs would look and smell great! They'd make a great gift, too! Get the ingredients and tutorial here.
Layered Soy Wax Candle: Each layer is a different color and scent! Just melt soy wax, add crayon shavings until you get your desired color, stir in essential oils, pour, cool, add wick, then light and enjoy! For the full instructions and ingredients, click here.
Scented Ornaments
There are several different types of scented ornaments you can make, but one things for sure, they'll help to add that holiday scent you're looking for. Here are a few of our favorite DIY tutorials:
Essential Oil Ornament 1: This tutorial ornament takes no time at all. Just fill a glass ball ornament with grapeseed oil, your favorite essential oils, whole cloves, and cinnamon sticks! Hang on your tree and enjoy the natural, clean scent of Christmas!
Essential Oil Ornament 2: With just baking soda, water, cornstarch, your favorite oils, and glitter, you can make this beautiful shimmering ornament smell and look any way you want!
Essential Oil Ornament 3: Can you even believe that these adorable gingerbread man ornaments are made with just glue, applesauce, and cinnamon? What a fun craft for kids and a keepsake you can pull out and hang on the tree every year!
Simmering Potpourri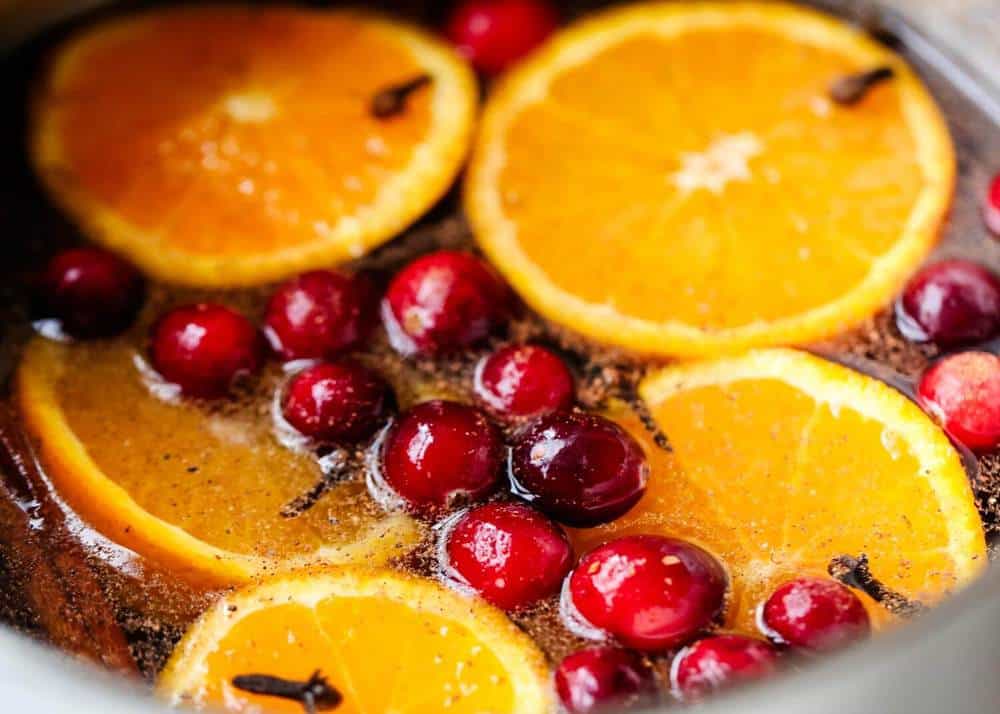 This is one of the easiest ways to make your home smell amazing for the holidays. Just combine ingredients and essential oils with water in a pot and simmer! The heat makes the scent that much stronger. Here's a great recipe you can copy.
Room Spray
With just essential oils mixed with alcohol you can make your own safe, natural room spray! This option is great because you can spray the scent any time you want and make it the strength you prefer. Get a tutorial by clicking here.
Well, there you have it! Easy and natural ways to get your home smelling like the holidays. Give yourself the gift of toxic free scents this Christmas. Your guests will love it, too!
12 Days of Christmas Survival Tips
Check out our other helpful holiday posts we've shared:
Day 1: 5 Gift Ideas Under $25 For Your Friends, Coworkers, and Neighbors
Day 2: Create, Print, and Ship Your Family Holiday Card in 1 Day and Save Money Too!
Day 3: Holiday Hangover Hack + Two Ingredient Christmas Cocktails
Day 4: Amazon's Best Holiday Dresses Under $40
Day 5: Immune Boosting Regimen: Keep Your Kids Healthy This Holiday Season
Be sure to follow along with our 12 Days of Christmas over on our Facebook page. If you like, comment, share, any of our posts, you'll be entered to win a prize!